Globe Correspondent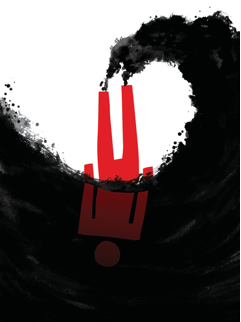 "Rosie the Riveter," with her muscular forearm and tough-as-nails stare, helped assure a generation of Americans that "We Can Do It," in World War II.
Maybe another Rosie could help us fight climate change. That's the message behind "Green Patriot Posters," a collection of posters that echo the style of wartime propaganda posters to warn of the current threat to our planet.
An exhibit of the posters, which came from a project begun in Syracuse, N.Y, is now mounted by the Design Museum Boston in the lobby of a new, environmentally friendly apartment building at Fort Point.
"They were inspired by another time when we were all called to action. They said, 'could we do the same thing now?'" said Sam Aquillano, co-founder of the Design Museum.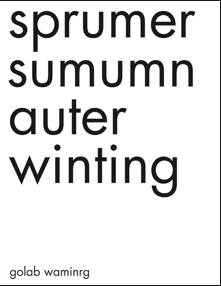 The display includes 30 printed posters of a project that has more than 500 designs; a projector offers images of many more. The posters range from the heavy-handed—an American Eagle covered in oil—to the thoughtful: a simple list of the seasons, scrambled by climate change.
Canary Project, the group of artists who began the poster effort in New York, says the Green Patriot posters are intended to "display an image of strength, optimism and unity… The overrid¬ing message is that our individual actions do matter." Started by contributions from professional designers, the project now includes contributions from students and amateur artists.
Aquillano, whose museum is all about putting art and design in front of the public, sees the posters in that spirit. "It's not enough to have a poster, it has to be a call to action," he said on the floor of the display recently. "It has to call people to make a change." Aquillano plans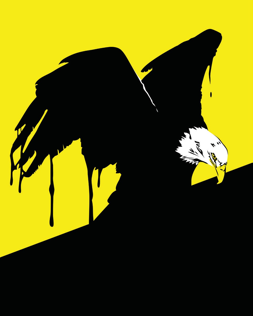 to challenge area students to design their own posters, and will take three winners along with the exhibit when it moves in June to Portland, Ore., San Francisco and Chicago.
The exhibit opened in the lobby of 315 on A, a new 202-unit apartment complex at that address developed by Gerding Edlen, a Portland, Ore., company specializing in sustainable buildings. The apartments are designed to meet LEED gold standard, the national benchmark for energy efficient building design. They include such touches as solar panels, co-generated heat and hot-water, a bike repair shop and thermostats that track your behavior and adjust the heat to save energy.
"We thought it was a great fit," Aquillano said. The Design Museum Boston has no museum building, but instead uses public spaces that have included Logan Airport, City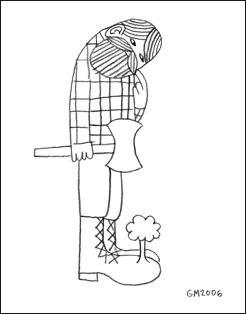 Hall and the Prudential Tower to put on exhibits designed to provoke thought. The museum's biggest project was creation of 18 unique benches around the Fort Point Channel last year. The Green Patriot Posters display is open to the public and free.
(Illustrations permission of Design Museum Boston. Images from top: "Global Warming" by Frederic Tacer, "Golab Waminrg" by Mathilde Fallot, "Bald Eagle in Oil" by Ty Baker, "Lumberjack" by Geoff McFetridge.)