Globe Correspondent
Electric car owners in Massachusetts pay less than half as much for fuel to go the same distance as gas car owners, the U.S. Department of Energy says.
The agency has worked up a comparison it calls the "egallon" for each state. In Massachusetts, electric vehicle owners pay the equivalent of $1.46 to go about 28 miles, the average distance that gasoline car owners go by paying $3.50 for a gallon of gas (if they are driving a 2012 model car), according to the department's calculation.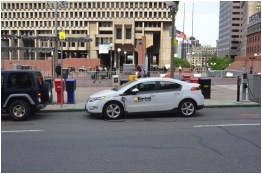 That makes the smug ratio about 2:1 for EV car owners. But the "egallon" figure underscores a point sometimes overlooked: the fuel for electric cars, while a lot cheaper than gasoline, is not free. It depends on the cost-per-kilowatt of generation by the power station creating the electricity. In New England, a switch to natural gas generation by power plants has kept prices low. The growing numbers of wind and solar electric generators have the potential for even lower electric costs.
The "egallon" calculation is just for fuel, of course. The price of the vehicle and the maintenance costs for the car help determine the complete cost of your transportation. And the egallon is based on an average for comparison with gas cars: some gas cars get more than 28 miles-per-gallon in their driving, and many older cars get a lot worse mileage.
Still, it is a measure of the future. Sales of hybrid-electric and electric-only cars are on a slow-but-steady rise, taking a firm foothold in our vehicle infrastructure. Electric chargers are sprouting up in and around Boston. My colleague Jonathan Satriale reportsthat with the addition of 12 new chargers at a parking lot near the TD Garden there are about 100 public chargers in Boston and about 250 in the metro area. They are found in area hotels, in front of City Hall, at the Boston Common garage, and near Fenway Park, among other places. They serve a still-small group of trailblazers, Satriale reports: the Massachusetts Registry of Motor Vehicles lists 262 electric vehicles in Boston, and 1465 in the state.
Electricity prices are historically much more stable than gasoline prices, which have whipped American drivers with wild and unexpected fluctuations. The Energy Department concludes that ought to be a draw for car buyers contemplating the plug-ins. Not to mention the environmental benefits.