)
Posted by Doug Struck February 26, 2014 11:22 AM
By Doug Struck
Globe Correspondent
North Americans use more energy per person than inhabitants of any other nation, and much of that energy is wasted. It leaks out of our buildings, is burned away in inefficient cars, and is squandered through the trap of cheap and plentiful energy.
But Massachusetts is in the forefront of states seeking to seal up our leaky buildings. The commonwealth ranked fourth among states in 2013 in the number of buildings certified as green, energy-efficient structures that help sustainability.
Those certifications are made under standards called LEED– Leadership in Energy and Environmental Design. Buildings that meet the standard get a plaque for their lobby or doorway and boasting rights. Last year 101 qualified in Massachusetts, bringing the total in the state to about 825. Only Illinois, Maryland and Virginia completed more, per capita, last year.
"We do have more architects—and more environmentally concerned architects– per capita, some of the best architectural schools, and more of them than a lot of other cities," said Gray Lee, executive director of the Massachusetts chapter of the U.S. Green Building Council, which administers LEED.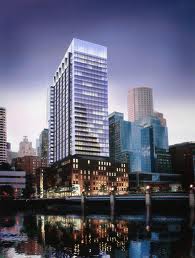 But the proliferation of LEED-certified buildings here also is proof of the power of government policy. Boston was the first city in the nation in 2007 to require that all new large-scale building projects meet LEED standards. It now has some prime exhibits: Boston's Atlantic Wharf beside the Fort Point Channel is the first high-rise in New England to be "Platinum" certified, the highest LEED rating; the city has promoted LEED housing developments in Highland Park, Roxbury, Jamaica Plain and South Roxbury, has retrofit the Castle Square subsidized housing units to LEED standards and has built libraries and police stations to those standards, among other achievements.
The state government also is pushing developers, and in 2007 required that all new state buildings meet LEED standards to help meet the goal set by Gov. Deval Patrick for a 40 percent reduction in greenhouse gas emissions from state operations by 2020.
The popularity is not just in the cache of "going green," said Lee. "LEED is an indicator. People are looking at healthier buildings, more energy efficient buildings, more buildings that in the end have a higher return on investment because they hold their value better."
The LEED standards lay out an agenda of 110 credits for sustainable buildings ranging from use of sustainable materials and resources, to energy and water efficiency, to public transportation access, to use of innovative technologies. Buildings that get at least 40 credit points meet minimum LEED certification; higher totals can earn a silver, gold or platinum rating.
Developers have, in the past, shied from undertaking this kind of construction, because it would cost more. But costs of sustainable technology and construction methods have come down considerably, Lee said, and that differential is easily repaid in lower energy bills.
Brian Swett, the chief of environment and energy for Boston, said the city has benefited from developers who are not just interested in building cheap and selling fast. "We have a lot of long-term owner-developers. When they are building their buildings they are thinking about the long-term value, not that they are going to sell it in three years."
And building to these standards increases a building's marketability to green-minded tenants and buyers, Swett said. "The real premium for the value of a building, for both rent and sale, is both green building and Energy Star" ratings, he said. "I can tell you many, many major tenants, when they come in, say 'How green can you make it? We want gold or platinum.'"
That target is constantly moving, said Lee. The most cutting-edge buildings are "net zero" or "net positive" energy buildings, that use energy efficiency combined with solar or geothermal power to eliminate the need to buy power from the grid. And the newest challenge, called "Living Buildings," would require that a structure has to both generate all of its energy on site, and treat all the waste from the building on site.
It is a high bar, Lee said, but he believes construction will continue to move in that direction. "We are looking at a total transformation of real estate," he said. "Our mission is green buildings for all within a generation."
(Photo: Atlantic Wharf on the Boston waterfront is the first LEED Platinum high-rise in New England. photo- Boston.com)