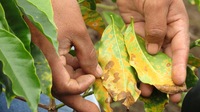 By Doug Struck
Globe Correspondent
A fungus attacking coffee trees in Latin America is the kind of unexpected consequence that accompanies climate change, and two New England institutions are trying to help farmers there cope.
Green Mountain Coffee, based in Vermont, and Root Capital in Cambridge are joining two other rural development boosters to offer $7 million to kick-start an effort to help coffee growers.
The farmers have been hit hard by coffee leaf rust, called la roya in Spanish, a fungus roaring through the orchards in Central America and, to a lesser extent, Peru, Bolivia, and Columbia.
The fungus, blamed in part on a succession of unusual hot and wet years — the signature of a changing climate in the tropics — turns the leaves brown, decimates the fruit, and can kill the trees.
The International Coffee Organization calls it a crisis, "the worst seen since this pest appeared in Central America in 1976." It threatens the livelihood of 2 million farmers and others associated with the coffee industry, warns the group, which was created by the United Nations.
Green Mountain Coffee, which grew from a small café in Waitsfield, Vt., while espousing the principal of treating farmers fairly, is offering to help because it wants to support its growers, the company said.
"When you see a partner struggling, a partner with difficulties, you feel obliged to do something," Lindsey Bolger, whose title is vice president of coffee sourcing excellence, said from the coffee-maker's Waterbury headquarters.
Root Capital is a non-profit investment firm founded to help rural farmers in Latin America and Africa. It is headquartered in Cambridge because founder "Willy" Fulbright Foote started the firm in 1999 when he returned from a journalism fellowship in Mexico to go to Harvard Business School but then decided to spurn the classroom.
Root Capital garners money from the government, corporations, and large donors to help make business work for small farmers. The fungal outbreak is "a massive setback for any of us who have dedicated our lives to growing rural prosperity," said
Liam Brody, a senior vice president at Root Capital.
The two institutions have partnered with the Multilateral Investment Fund based in Washington, D.C., and the Skoll Foundation in Palo Alto, Calif., both of which promote development programs for the poor. The foursome announced Thursday it will provide $7 million to Root Capital, which will leverage that to more than $10 million in loans for more than 40,000 farmers and cooperatives in Latin America.
The farmers need the funds to buy fungicides, to cut back their trees, or to replace their trees entirely, said Bolger, who travels frequently in the area to talk to suppliers.
"You can cut the coffee tree back severely, but it may be three years before it produces again," she said. Farmers need money to support their families during that time, she said.
The program also will help farmers get soil analysis and plant new varietals of coffee trees that are not so susceptible to the fungus. Growers need to make their crops more hardy and less vulnerable to the shocks of weather and consequences of more pests and diseases that are expected to come with climate change, said Bolger.
"We can only assume there will be another outbreak of pests or disease," she said. "We have seen it in other insect infestations. We are confronting this one now, but the intended outcome now is to learn from la roya to position the industry more favorably for future shocks to the system."
Root Capital is hoping its efforts will be a model for even larger groups, such as the US Agency for International Development, to provide assistance to the farmers, Brody said.
Ironically, despite the trauma faced by Latin American growers, there is no shortage of coffee, Bolger said. "Columbia, Brazil, and Vietnam are producing more than ever," she noted. But Central American coffee is distinctive, she added. "We consider that a go-to region to find the high-quality coffee we need."