By Doug Struck
Globe Correspondent
Environmentalists who believe the adage "money talks" are finding it difficult to disrupt that conversation, as protesters have found recently at both WGBH and Harvard.
Demonstrators marched on the public broadcast station WGBH Wednesday to present a petition demanding the ouster of coal-oil-and-gas billionaire David Koch from the station's 32-member board of trustees. His deep-pockets contributions to groups disputing climate change make him unfit for the board of an educational television and radio broadcaster, the protesters contend.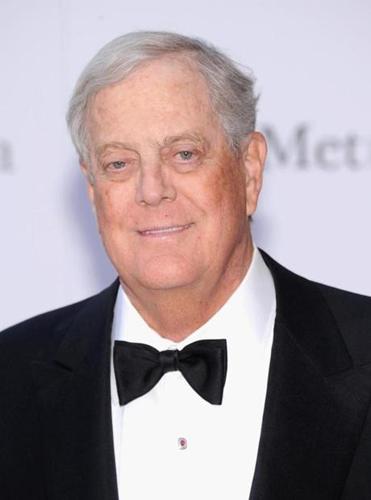 Their protest was largely shrugged off. Koch did not resign. A spokesman for the station insisted that trustees "plan to make no changes," and board chairman Amos Hostetter defended Koch, who has been on the board for 16 years, as an example of "diversity" on the board. He added, there is "no political litmus test" for board members.
The rebuff from Harvard was more blunt. Students have led a campaign to get the $32.7 billion endowment fundat Harvard, the largest of any university in the country, to divest of its stock in the fossil fuel energy producers. The campaign, spurred by superstar climate organizerBill McKibben, has spread nationally, and even gotten a nod of encouragement from President Obama.
But Drew Faust, Harvard's president, this month said Harvard has no intention of divesting. "I do not believe … that university divestment from the fossil fuel industry is warranted or wise," Faust said in an open letter. She said the university has a "strong presumption against divesting investment assets" for political reasons, such action could hurt research at the university, and Harvard's money should not be used as a "tool to inject the University into the political process."
Those reactions indicate the difficulty faced by campaigns seeking to disrupt the big money connections to institutions. Koch, for example, has donated more than $18 million to WGBH and $10 million to its science show, NOVA. For a public television station, the threat of losing those kinds of contributions are alarming.
"WGBH trustees do not have a role overseeing any WGBH programming, and funders have no involvement over the editorial contents of programs," WGBH spokesman Michael Raia said. "Just as our viewers and listeners reflect a full spectrum of political and cultural views, so do our board members."
Still, "we think WGBH should look at the cost of this," said Emily Southard, the campaign coordinator for Forecast the Facts, an activist organization that organized the campaign at WGBH. "David Koch has dedicated his life and tens of millions of dollars to misleading people about climate change. At the same time, he has tried to de-fund public broadcasting," she said.
"The cost is really too high for Boston and for WGBH," Southard said. "WGBH is a respected institution and we believe that they will see eventually it doesn't make sense to have Koch on the board."
The "eventually" may be key qualifier here. The model that such campaigners point to is the campaign from the mid-1970s to 1994 to persuade fund managers, colleges, cities, states, and countries to divest from South Africa because of its racial apartheid. That worked, but it took almost two decades.
"Apartheid was when the tactic of divestment proved its efficacy," said Harvard sophomore Chloe Maxmin, one of the Divest Harvard campaigners. "But the apartheid campaign took 20 years to get 300 [separate] campaigns going. With divestment, it's taken less than a year. The politicians are already listening."
Neither movement says it will give up. Southard says the group plans to try to talk individually to WGBH board members to persuade them to oust Koch. The petition presented the station Thursday, which organizers said had 119,000 online signatures, may raise eyebrows at a public station that regularly appeals to listeners for donations.
And they note that earlier this year, Koch did resign from the board of WNET, a New York public broadcast station, following broadcast of a documentary critical of Koch and other rich powerbrokers.
On the campus of Harvard, Maxmin says, "we are going forward strong. It is unfortunate [Faust] is siding with the fossil fuel industries and not the students and faculty." She said the group will ask the Harvard president to participate in an open debate on the issue. Krishna Dasaratha, who graduated from Harvard in May but is continuing to work on the issue from Stanford, predicts such efforts will not move with the glacial pace of past campaigns.
"The early indication is that the divestment movement is spreading a lot faster and picking up more early victories than the apartheid fight," he said. "So there is reason to be optimistic. People understand that we are working on a very short timetable if we are to avoid the effects of climate change."